UPPER BLEPHAROPLASTY FOR EYE LID HOODING
Eyelid hooding or dermatochalasis occurs due to many factors like aging,huge weight loss, sun exposure and also genetic factors has a role
Hooded eyes(dermatochalasis) occurs with aging also can happen in young age due to genetic factors.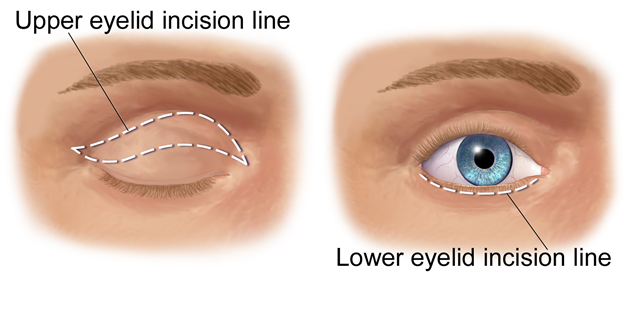 Problems of dermatochalasis or hooded eyes:
1-Decrease the field of vision especially the lateral field
2-Eye heaviness sensation with discomfort due to mechanical ptosis of the lid
3-Gives the appearance of tired Eyes and more aged angry facial look
Correction of upper eyelid hooding (dermatochalasis)
-First Measurement properly of the amount of skin to be removed as every 1 millimeter excess can affect the result and leads to postoperative problems.
-Secondly:Determine is there any fat prolapse needs to be removed or repositioned
-Thirdly:Examination of the lateral angle of the eye as alot of cases have fullness in this area with eye puffiness(hooding) this is due to lacrimal gland prolapse in most of cases which needs to be repositioned surgically intraoperatively.
After precised good examination of the patient eyes a special protocol is planned to be done inside the operation to treat his condition.
Surgery is done with local anesthesia in most of cases where the incision is made at the eyecrease,where the scar will be hidden ,and fades very soon due to using sutures of aethetic outcome in plastic surgeries
Postoperative period: Surgery doesn't affect the eyes you can return to your work after 3 days